This fourth of July, I got invited to a Baddie pool party, and I really wanted to do a fun, patriotic makeup look to fit in/look cool. I am learning every day and experimenting more and more with colors out of my comfort zone, so I thought I would try something pretty standard, but still make a statement.
There are certainly a lot of ambitious and impressive patriotic looks out there that I found, and although I am an excellent instructions follower, I chose to throw caution to the wind, not watch a tutorial or pull up a reference photo, and keep it fairly simple with a red lip and a blue eye look.
I never wear blue eyeshadow. It always makes me think of the 80's, and although I am a child of the 80's, it is not a makeup trend I personally care to revisit.
Because I'm not a fan, I decided not to even invest in blue eyeshadow. I knew in my extensive kit of random makeup artifacts, I had to have something to pull off my vision. Plus, I love being a makeup Macguiver. As Tim Gunn always says, MAKE IT WORK!
How hard could it really be? That, my friends, was my first mistake; I got COCKY. I didn't watch any tutorials or even look at a picture. I just went in raw-dog with my limited intuition and several palettes.
I sat down in front of my makeup mirror and started pulling things. I knew my Kylie holiday palette had a blue in it, so I started there. To my dismay, the blue is more like a jewel toned purple. I put it in my crease and immediately knew I was gonna have my work cut out for me.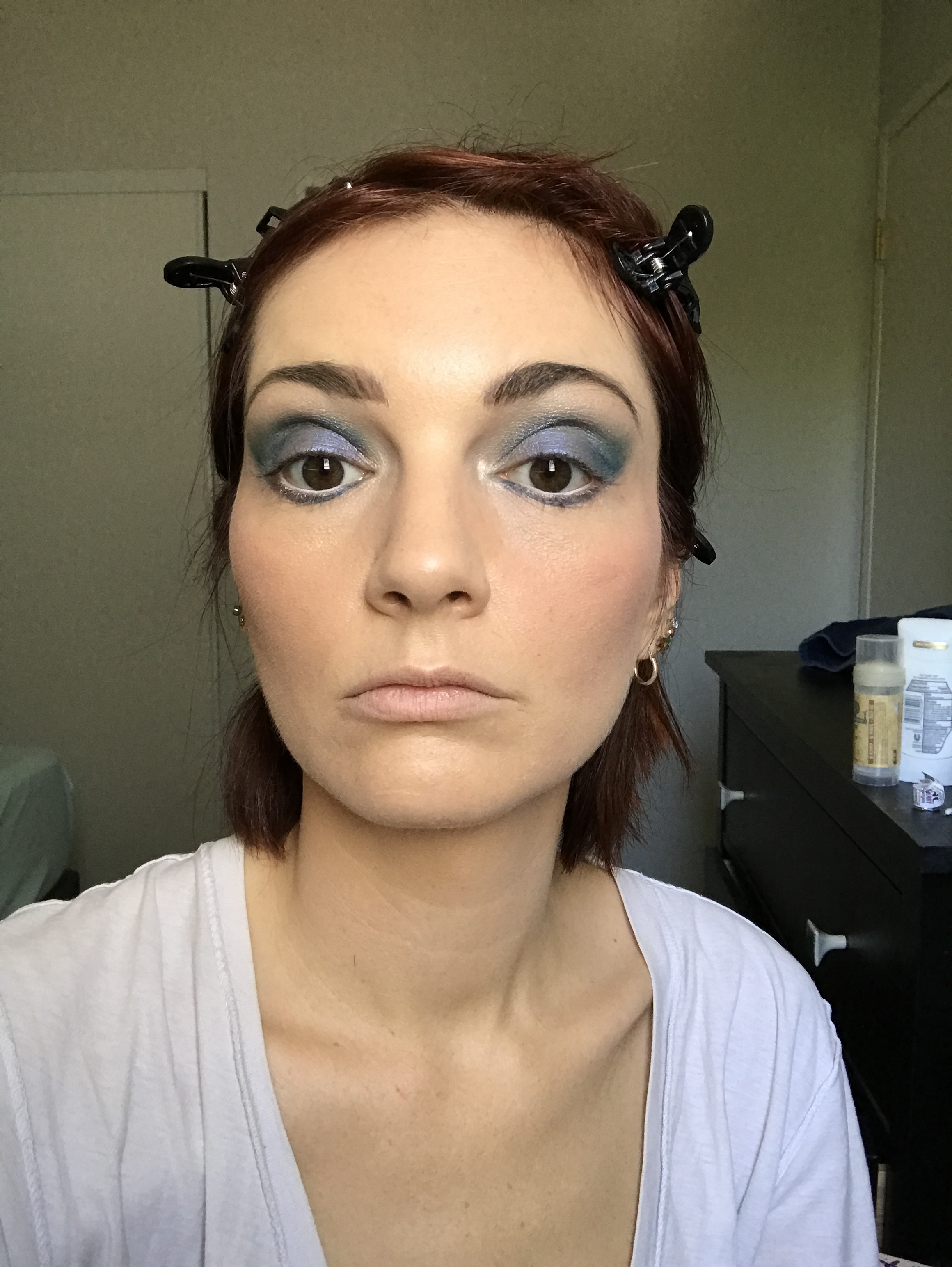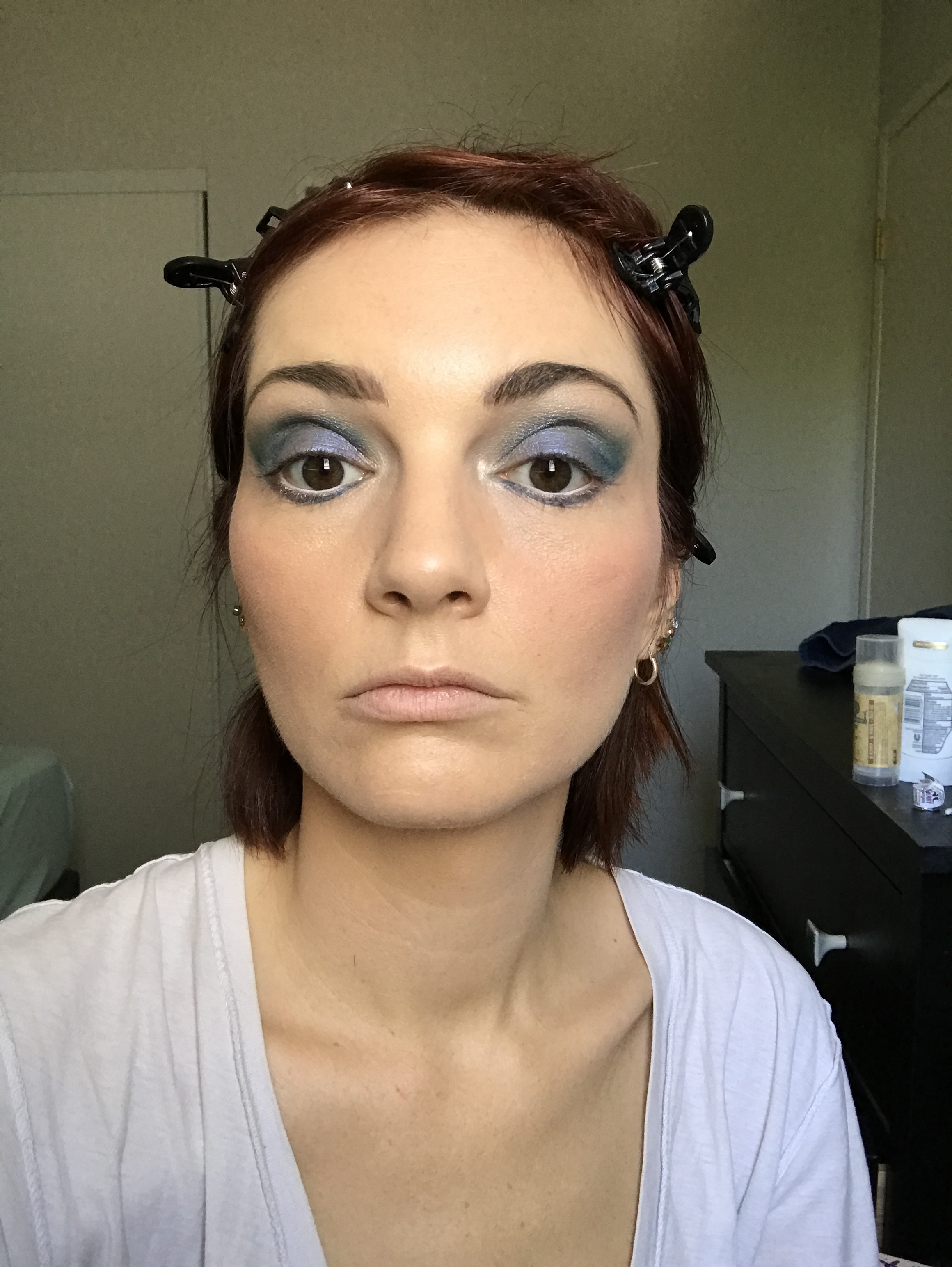 The only other semi-blue shade I had was a turquoise color from a palette I'm trying to phase out of my kit for ethical reasons, and the color was just as unhelpful at the Kylie shade.
At this point, though, they were all I had, so I tried them both and both were fighting me tooth-and-nail.
I also was trying the NYX total control drop foundation for the first time. I was really, really cocky attempting a beat face with a brand new foundation. Looking back, even Icarus himself most likely would have told me, "Hey there sport, slow your roll a bit."
My first reaction was that I really like the foundation. However, when I was color-matched at the NYX store, I was in between two shades (the story of my life- I HAVE NEUTRAL UNDERTONES, DANGIT! WHY MUST I LIVE IN THIS PRISON!?) so I went with the lighter one, since the darker one was way too yellow on me.
I applied it all over using a brush (like I've seen several instagram hunnies do) and I did NOT like the color. I was ghostly pale and this was a dang 4th of July party. I wanted to look bronzed and healthy and like this wasn't the first time I've been outside all year (even though it was).
So at this point, I am a pale ghost with 80's eyeshadow on. But I'm in too deep to go back now. I'm a Johnson, and Johnson's finish what they start. I hear Tim Gunn giving me a bleak critique, but his last sentence is "But I know you will make it work." Then he scowls, crosses his arms, and slinks away.
This outfit deserved a snatched face!
Spoil alert: It didn't get one.
Okay, I have to turn this around! I bought a new outfit for this party and shaved my legs!
So I do a second layer of the NYX drops, this time adding in some Cover FX color enhancing drops in sunlight to warm up my Casper face. It doesn't work as well as I would like, but definitely looks better. The NYX foundation I will say is bomb. I just wish the color matched me better! The coverage is full- and looks great on the skin. Since this attempt, I have worn it a few other times, and I must say it doesn't always blend well with other makeup (certain concealers I wear with it will break up the formula, and mixing it with other foundations is hit-or-miss, but by itself it for sure looks gorg.)
Now back to the eyes. Luckily, if I ever end up with eyeshadow blend issues (which I do all the time if I'm being honest with you and myself) I just use my bangs as a cover and hope the wind doesn't blow them out of place that much to reveal my shame.
I start blending to the GODS, honey. I blend, and blend, and just as my wrists are gonna give out, I blend some more.
I scrape some of the Kylie blue out, mix it with the Cover FX drops in halo (the "unicorn shit" shade) and mix in some white shadow from another palette hoping that will lighten it up a bit. I mix and mix like I'm in my own damn makeup factory. It lightens up only slightly and it still has a purpley vibe that I am not digging, but at this point I just have to embrace it.
Molly Tarlov was also going to be at this party, and we went to the NYX store together the day before. She was gonna attempt a patriotic look as well, and as mine went off the rails, I had to inform her. Friends don't let friends blend busted.
I knew that lashes would help pull the eye together, so I put on the biggest pair I have,
a faux mink pair from Huda that are so beyond gorg.
I used my trusty wet n wild eyeliner to line the lashes and that very much helped.
I also used a new white NYX pencil in my water line, and that seemed to help distract from the jewel-toned blue nightmare I had created on my lids.
As it all came together, it started to not look so dang sad after my literal hour of blending.
I had to move on and make peace with dark jewel toned eyelids of shame. Inner corner highlight helped further complete the look. I figured I could do a bold red lip that would perhaps redeem the eye, so I got out my trusted Wet N Wild Liquid Catsuit in flame of the game- a bright orange-based red.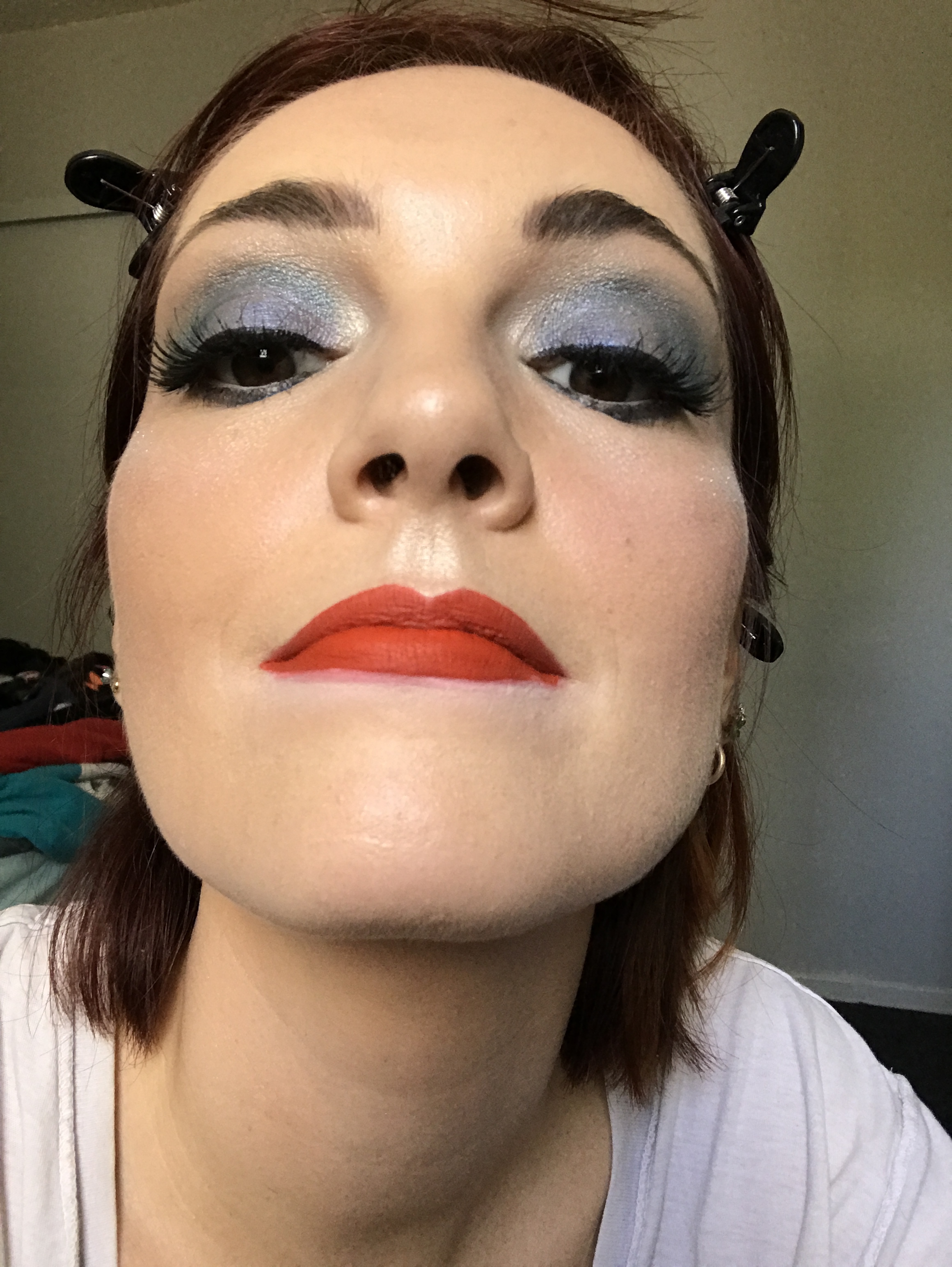 Sorry, Flame of the Game.
Once again, I got cocky. I started to overdraw with the doe-foot, and slowly but surely my lips grew like an ameba down my chin as I tried to even out my mistakes.
I thought to myself well I can just draw over my over-drawing with a white pencil. I've seen that done somewhere! That'll work!
WRONG.
ANOTHER FAIL.
It just became even more obvious that I overdrew and turned into a pink line of shame.
I ended up just using micellar water and some q-tips, erasing most of my bottom lip, and starting over. Of course I had to fix my foundation all around my lips first.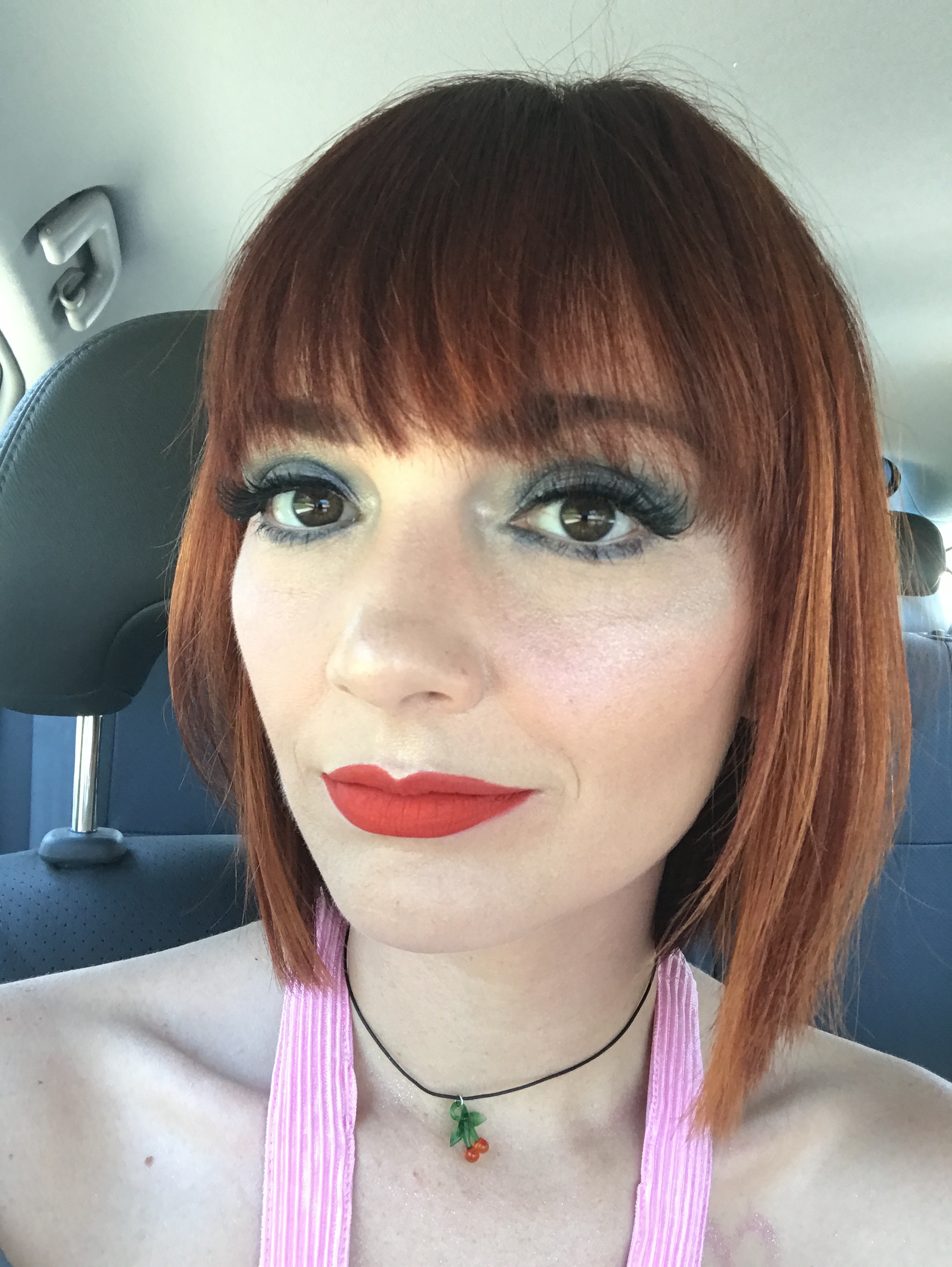 Not my favorite. Thankfully, I have bangs.
By the time it was all said and done, we were late to the party. But at least in LA, everyone is always late. I came out of my room feeling just okay confident, which is not at all what I wanted!

I know what you're thinking- it looks pretty good! I'm telling you- BANGS HELP.
Also the foundation was too light, and if I could go back in time, I would've gone with a more dewey, bronzey, and light coverage look for this outdoor, poolside occasion.
I also used the NYX roller glitters to draw hearts all over myself, because why not. At this point, I decided that more was more.
I will say that Brooke Candy was at this party and told me she loved my necklace, which I've had since high school and recently resurrected into my wardrobe, and she also loved my outfit and laughed when I proudly proclaimed to have bought it yesterday at the Glendale galleria.
Plus, the sunglasses saved me while I was outside.
My advice to all the hunnies out there is to keep on experimenting with bold makeup and colors, even if you don't know what you're doing. If you haven't heard it by now, it takes 10,000 hours to achieve genius.
Perhaps by next 4th of July, my blending will be much more advanced, and I will actually invest in a great blue shade instead of scraping 4 colors from palettes I never use to create a make-shift shade. Go hard for what you want in this world!
I will also say, though, perhaps do some research. I should've looked over my makeup kit more thoroughly and seen the color limitations I had. That would've saved me some drama.
And also, it was HOT as hell on the 4th. So hot that Molly ended up bailing on her planned look and I totally agree with her on that choice. Perhaps this was not the day for my dark blue eye and lip combo. A bronze face with some glitter highlight would've done me just right. My advice- check the weather and know your occasion when mapping out your makeup look du jour.
I refuse to stay in my makeup comfort zone, even after this being a fail! I'm gonna keep trying, I'm gonna keep blending, I'm gonna keep on attempting a liquid lip and perhaps SOMEDAY I will get my lips on straight!
And I had a blast at the party. Chooch had the most fun, though. And I will say, she decided to go totally natch, and I think I might do that at the next pool party I attend, as well.
WE GOT THIS!
We should all be more like Chooch.